Hotel Information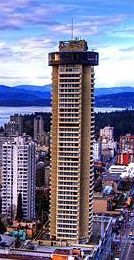 The  Empire Landmark Hotel, is located on Robson Street between Broughton and Nicola. The hotel features the Cloud 9 revolving restaurant with its 360 degree view of the city.
Empire Landmark Hotel
   1400 Robson Street  Vancouver, BC V6G 1B9
Tel: (604) 687-0511  Toll free: 1-800-830-6144
http://www.empirelandmarkhotel.com/
For Reservations, please call toll free 1-800-830-6144 or via email at reservations@empirelandmarkhotel.com.
Room rates
Standard Room (1 King, 1 Queen or 2 Twins):  $75
Deluxe Room (bigger room with 2 Double beds):  $85
Please quote "PICNet Conference" at the time of booking.  Upon reservation, guests must provide their credit card information to guarantee their booking.
The above special rates are rooms only, net in Canadian Dollars based on single/double per room per night, plus 15.74% taxes. Additional $10 per additional triple and quad per night, plus 15.74% applicable taxes.  Please note that the hotel allows a maximum of 4 people per Deluxe Room and a maximum of 2 people per Standard Room. The Deluxe Room has an adjoining door to another Deluxe Room (may request upon booking).
Should you require additional Wireless High-Speed Internet service, the fee is $9 inclusive of taxes per 24 hours per card.  Upon check-in, guests can advise Front Desk and they will be provided the code card(s).
The above rates will be honoured up to three days prior and three days after their visit on an availability basis for those guests wishing to extend their stay.
Guestroom Payment, Release Date & Cancellation
Guests are responsible for their own guestrooms, incidentals and taxes, as well as for booking, making changes and cancelling their own reservations (i.e, the bookings are not done through PICNet). Should there be any cancellation, please contact the hotel as soon as possible.  There will be no penalty for any individual room cancelled 48 hours prior to arrival.
Features of the Empire Landmark Hotel and Conference Centre
The tallest hotel located on trendy Robson Street, with "Shop n' Stay" program offering exclusive discounts for over 70 retailers.
Cloud 9 Revolving Restaurant & Lounge, on top of our tallest hotel in downtown Vancouver with panoramic views of our beautiful city!  www.cloud9restaurant.ca
Within walking distance to Stanley Park, English Bay, Vancouver Art Gallery and the entertainment area.
All 357 guestrooms have their own balcony, a mini fridge, cozy duvets & a brand new 40-inch flat screen TV.
State of the art Sensor Guestroom Key Lock System, built in with modernized elevator system
Fitness Centre, Car Rental,  Professional Hair Salon, Gift Shop & Massage Centre
Map of Hotel showing Skytrain, Seabus, and Seaplane terminals (click to enlarge)